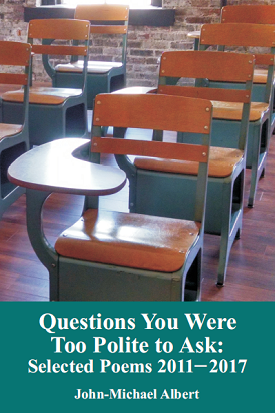 Questions You Were Too Polite to Ask
by John-Michael Albert – copyright 2018
ISBN 978-0-9981922-9-1
$15
Read a sample
Reviews for Questions You Were Too Polite to Ask
by Kathy Biehl
Mike's poetry dances across the time/space continuum of his life He pops in on his beloved--flora, fauna and fellow inhabitants of the New Hampshire seacoast, kaleidoscopic through the seasons; dear friends who entered his heart along the way and have stayed despite distance and death...He's an engaging guide, with a painter's eye and a story teller's empathy that deliver you-were-there emotional and visual impact. Where to now? I'd follow him anywhere.
by Melissa Thompson
Questions You Were Too Polite To Ask is a testament to the power of survival and an unvarnished love song to the beauty and mystery of the natural world...And because this is poetry, he chronicles the most searing partings of all: the death of a beloved friend in "The Language of the Dead' and "he Origin of Ancestor Worship, It's All In the Roux." Mike Albert has crafted his own roux, spun from a blend of word, sound and memory. This is the foundation for a fine feast indeed.
Sample from Questions You Were Too Polite to Ask
Do Something Else


The Dalai Lama repairs watches.
Suleiman the Magnificent was a goldsmith.
Japanese novelists are all CEOs or bankers.
The Psalmist was a king.
Wordsworth and Churchill were painters.

Write poetry with the mind of a musician,
a physician. Your work will grow large and strong
if you let it feed on the grass in adjacent fields.
Scratch poems in the margins of scores.
Scribble poems on prescription pads.

Imagine Frank O'Hara without New York City,
without all that pavement, that noise, those lights.
Imagine Whitman without journalism,
without nursing, without America's open roads.

Look at all the poets who are mothers and fathers.
Take their husbands and wives, their children,
out of their poetry, and what's left?
Who will they sing to, and about what?

Librarians and hospital administrators by day,
parents by night. Startling poems suddenly appear
on the backs of greasy napkins at lunch; on bills,
next to the wine stains, on the first of the month;
on the desk calendar, beside their next appointment.