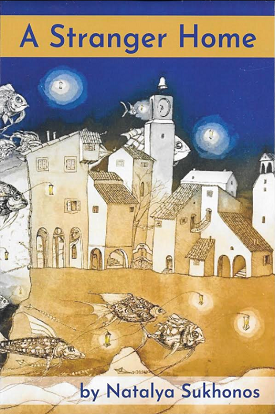 A Stranger Home
by Natalya Sukhonos – copyright 2020
ISBN 978-1-7340020-2-7
$15.00
Read a sample
Reviews for A Stranger Home
by Cal Freeman, author of Fight Songs
Natalya Sukhonos is a poet of precision and empathy...With roots in Ukraine and a home life in Brooklyn, Sukhonos fluently navigates languages, cultures, and landscapes, offering a poetic vision of a world that is sprawling, yet intimate.
by Michael Morse, author of Void and Compensation
...These are lyric poems of crucial attention, of efforts to keep alive traditions, tastes and terrain from the past..these poems attentively sing of what matters most and offer maps of both sustenance and survival.
Sample from A Stranger Home
Sunflower Promise


Years ago
he gave her
a kilo of fresh strawberries at the city market
a two-week boat trip on the Volga
a wealth of illegal samizdat poems
laughs, letters, a dacha, a dog, two daughters
a home for her parents
the desire for movement
and a new country.
Now he gives her a promise
and she returns it to him in bloom,
always the wiser.

On the bus ride across 285 miles of New York state,
I've become guardian of a single flower:
my mother's gift to her husband
after forty-two years of marriage.
This sunflower is not a sign.
It guards its aureole of empty space with jealousy,
every petal a testament to unrelenting sweetness
that is for no one and belongs to no one,
the heart of the sunflower
a cluster of warblers all ready for flight.
(But my father might scare them off
with his timidity.)
Its fuzzy stem a rough caress.
(But will his fingers even
touch the flower?)
Wrapped in a wet paper towel,
will the sunflower survive
the five-hour bus ride
the New York City subway
this poem?