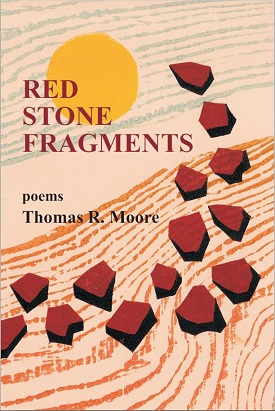 Red Stone Fragments
by Thomas R. Moore – copyright 2019
ISBN 978-1-7323624-4-4
$15.00
Read a sample
Reviews for Red Stone Fragments
by Joyce Sutphen, Minnesota Poet Laureate
...His subjects range from girls with iPhones to wild turkeys under the bird feeders on a morning in Maine. He can be nostalgic--musing on exotic places he's lived "when [he] was a nomad,"--or philosophic, concluding that "our destination is/inside us, the marrow, where we began." No matter the topic, he always gives his reader something interesting to consider and since he has been practicing the art of letting go, he won't mind if you take these poems out into the world and read them to your friends.
by Linda Aldrich, Portland Poet Laureate
...Wrenching loss permeates the collection, but elegant poems gleaned from the keen observation of nature and of art provide an inspired leavening and firm grounding in place, where wild turkeys "stretch and bounce to reach/the barberries like thieving boys."
Sample from Red Stone Fragments
In A Bog, September 2018
Global warming floods streets and
dooryards in the Carolinas. I walk
the dog before first coffee in shadows
darkened by the streetlight's blare.

Next door, the neighbor leaves for
Bangor. Blackness fuels the air. I'm
feeling low. Later, I work the garden,
snap off collard greens that rattle

like luffing jibs, cut squash vines, pile
delicata and butternut with their squirrel-
gouged skins. Gardening's almost done.
The TV news is shootings and

presidential lies. At the shore the waves
slosh and eddy between ledges.
The reek of salt spray heavies the air.
Staring toward Islesboro across the bay

I muse to heal my spirit: sailing with my
father sixty years ago on a yawl in Blue
Hill Bay, motoring in my sloop at midnight
around Turtle Head, and how, across

there in Cape Rosier's tiny chapel,
John the electrician sang, quavering,
He walks with me and He talks
with me on a summer afternoon.