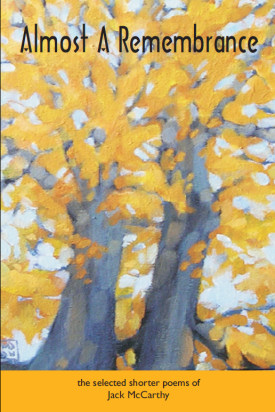 ALMOST A REMEMBRANCE - Shorter Poems by Jack McCarthy
by Jack McCarthy – copyright 2011
ISBN 978-1-4507-0741-1
$12 including postage and handling
Read a sample
Reviews for ALMOST A REMEMBRANCE - Shorter Poems by Jack McCarthy
by Rhina P. Espaillat
Jack McCarthy has done it again: in the best of these poems, he focuses his circuitous, penetrating attention on the joys and complications of human relationships. Marriage and parenthood in particular are explored unflinchingly...nothing escapes McCarthy, whose narratives seem to wander far afield, but circle to close exactly on target...Every reader will find something in these pages that speaks to him.
by Taylor Mali
Here are poems that find a home in your ear quietly and permanently, each one "an unexpected act of simple human decency."
by Patricia Smith
Jack McCarthy is..the purveyor of those perfect lines you can't forget, the consummate storyteller, the poet you hear and wish you were. He's a slam stalwart, a rebel, a lovably stylish rogue, and--without a doubt--one of the best at what we do.
Sample from ALMOST A REMEMBRANCE - Shorter Poems by Jack McCarthy
Poet Detained In Airport
The clerk asked,
"Are you carrying anything on
from a strange person?"

The poet said, "Lady,
I AM a strange person."

But that wasn't what did it.

The clerk went on,
"Have you been leaving
your baggage unattended?"

The poet said,
"Of course I have.
That's how it got to BE
my baggage."