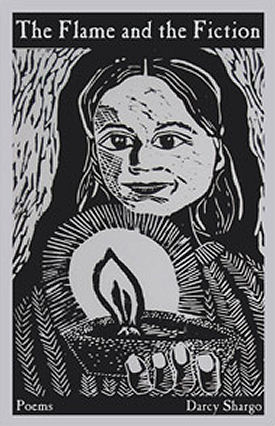 The Flame and the Fiction
by Darcy Shargo – copyright 2005
ISBN 0-9765166-4-0
$10
Read a sample
Reviews for The Flame and the Fiction
by Ted Bookey, poet, teacher, critic

Darcy Shargo's poems are imprinted with the stamp of uniqueness. Filled with sensuous surprise combined with sharp-mindedness from the refined depths of a very individual mind, they display imaginative intensity, aesthetic risk, in a language that is sonorous, precise and keenly intelligent, often brilliant and surprising in its sweep of vision--poetry filled to the bursting point with fine insights in shining lines, fine-tuned with most exquisite restraint and abundant control. Her pantoum "Travelogue" alone is worth the price of admission. These are poems of status.
Sample from The Flame and the Fiction
Wanderlust


The American frontier lost its flavor years ago,
but you keep traveling farther west, our conversations
stilted by mountain ranges, the radio's endless
spin of Willie & Waylon tunes. The ride home

is a long one, and during it you read the landscape
for signs of this discernible hymn: we may not endure.
Newspaper headlines curling to dust,
rolling from one coast to the other, beyond

booze bottles hurled into ditches, the glow
of your Marlboros smoked two at a time. What is there
to say above the din of the desert ? That time once felt
like something you could hold in your hands, when it was

cold enough to watch your breath rise and move
through the air, ahead of the next adventure? Are you still
following that line--toward an end with some unsolvable
longing? Send word as soon as you arrive.