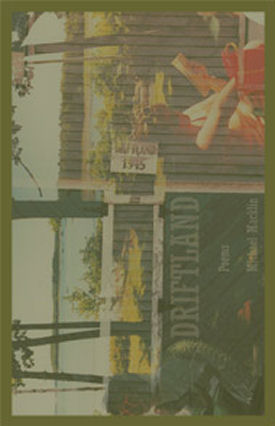 Read a sample
Reviews for Driftland
by Jack Myers
With great power, warmth, wisdom and skill, Michael Macklin's Driftland builds us a sturdy ark in which by candle-light of his spirit, we celebrate the gifts of this world while he guides us over the yawning depths of loss, change and death. His presence is reassuring and mature, a sure hand reaching down into the abyss
by Betsy Sholl, Poet Laureate of Maine
There is great wisdom in these poems - the wisdom of one who has thought long and hard, who is unafraid of love, grief, solitude, mystery, and all of the subtleties of the human heart. The knowledge Macklin has of work, of earth, machine and tool, is enacted in the music of these finely crafted poems. Like all good poems, they make us more alive - both to the world and what's beyond.
Sample from Driftland
Before Coffee


Every morning the dark-robed crows
congregate in the pines at the edge of my yard,
sitting in small groups grumbling
until I step onto the lighted porch.

They grow quiet as monks,
cock their heads and mumble
perhaps in Latin
and we share an early prayer,
a magnificat for another day.

All winter we have met like this at dawn,
wind fluttering their black cassocks
as they peer down their noses
to view me at my lessons.

For a moment we inhale the crackling air
until they rattle with impatience, cackle
at my feeble attempts to see the face of God,
and the old men in the trees fly off.