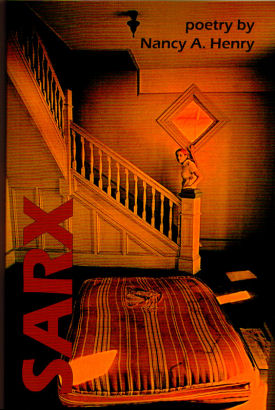 SARX
by Nancy A. Henry – copyright 2010
ISBN 978-1-4507-0739-8
$13 including postage and handling
Read a sample
Reviews for SARX
by George Wallace
Sarx is a book of poems that is, at its core, reverential of its subjects, whether they are sensuous, funny, sacred or mundane; a praise poem to that which is flawless, but also to "the erotic power of flaws." Once again Nancy Henry gives voice to a heart that swallows things whole. These are poems to cherish, as one might an "ironic secret...this tenderness, nearly unbearable."
by Ellen Taylor
With meticulous detail and dizzying juxtapositions, these poems pay close attention to the landscape of the body and the heart. From the "dreadful Sanskrit" of a water moccasin to "starved yellow of dawn" the reader learns "the soul craves an education." This collection, too, educates us, and we leave these poems with appreciation for Sarx in all its incarnations.
Sample from SARX
Correspondence
I button on the green shirt
moss-green silk
salamander skin
against my breasts
light as mist
smooth as milk
I pour the dark coffee
in my yellow mug
watch the cream billow and spread,
camel, caramel,
thus prepared,
talismans in place,
I sit to write this letter,
the one that will change
the direction of your life
the one that will recalibrate
all your navigational equipment
based on the star
that rests on my hillside
in the month of October
I check every night
it has not fallen yet.