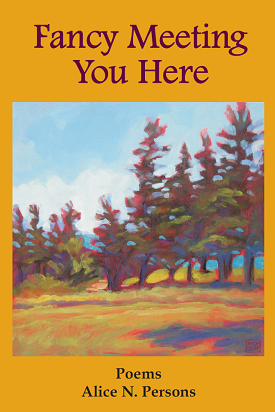 Fancy Meeting You Here
by Alice N. Persons – copyright 2015
ISBN 978-0-9861524-6-7
$10
Read a sample
Reviews for Fancy Meeting You Here
by Bruce Spang, third Poet Laureate of Portland, ME
The collection is filled with the regrets and loss, the fantasies and peculiarities, of everyday life that are transformed into stunning insights we can all hold onto like life preservers.
by John-Michael Albert, eighth Poet Laureate of Portsmouth, NH
Time and tide have brought Alice Persons and her passion for words to a moment of reflection in a collection of 25 poems, FANCY MEETING YOU HERE....Sitting down with a book of Alice Persons' poetry is like enjoying a mid-morning conversation with a friend over coffee and pastry in her kitchen. A friend who speaks poetry.
Sample from Fancy Meeting You Here
Watching Ed Sullivan


Every week in black and white on my family's first TV
it made one uneasy to see him
the former boxer so awkward,
troll-like, with a big slab of jaw, hunched over,
easy to make fun of --
the comedians mimicking him
always imitated the odd voice,
"Tonight we have a reely big shew--"
With that face made for radio and his prickly personality
one wondered how he made it big on TV.

Years later I found out that his politics
were as ugly as he was,
that he hunted Communists with fervor
and the list of performers banned from his show
usually for being "lewd" or
referring to drugs in songs
includes so many greats like
the Doors, Jefferson Airplane, Bo Diddley.
Yet Ed was a pioneer
on that show that lasted 23 years;
when Bill "Bojangles" Robinson died
Sullivan paid for his funeral himself
and there is a star with this odd man's name
on the touristy Hollywood Walk of Fame.