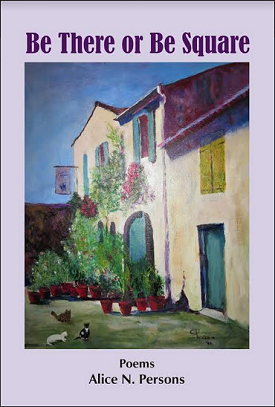 Be There or Be Square
by Alice N. Persons – copyright 2018
ISBN 978-1-732624-3-7
$10.00
Read a sample
Reviews for Be There or Be Square
by Doug Woodsum
...This book has dancing and opera in it, and, of course, Alice's feline and canine housemates...Many of life's paradoxes are captured in these pages, such as the haunting and hopeful "White Van." I want to sit down with Alice and talk about these poems. I rarely say that about a book.
by Jenny Doughty
...Persons is interested in all the details of life, and it shows in this beautifully crafted collection of poems...her references range from tribal customs to the World's Biggest Ball of String, and her poems provide the kind of map that she knows exactly how to fold to take us there.
Sample from Be There or Be Square
Reading the Map


GPS giant Garmin Corporation acquires Maine mapmaker DeLorme...paper maps will be phased out. (news story February 2016)


GPS on everyone's device, satellites tracking us 24/7;
the art of reading a paper map may die out before I do.

They will become artifacts, hard to find.
Some entrepeneur will open a Map Museum
to bemuse future young people who've never seen one.

I'd like to believe this won't happen. One of the pleasures of a road trip is navigating,
riding shotgun with the all-important state map.
"Filling stations" used to give you one with a tank of gas.

From the back seat of our lumbering, un-airconditioned
Ford station wagon on cross-country trips, I'd ask
to look at the map, ignore my quarreling siblings
and lose myself in its wonder and intricacy.

Mom devised games for us, taking turns with the map:
find the oddest names of little towns, rivers, mountains, parks.
Boring, Oregon! Sweet Lips, Tennessee! Potholes State Park! Intercourse, PA!
Easily amused, we giggled for miles.

My feet are bare on the warm dashboard.
A breeze rattles the map.
The art of properly folding one, as useful and archaic
as that of reassembling a newspaper,
I learned from my father.

Abroad, I buy a detailed map of a new city--
such satisfaction in figuring out
how to get around without asking. I bring home foreign maps
as souvenirs; they make me feel
that I will return and use that much-folded guide.

Spare me the screens and the digital voice telling me
where to turn. Let me wander.
Let me unfold the crisp blue map,
covered with lines, symbols, intriguing names of towns--
full of possibility and romance.