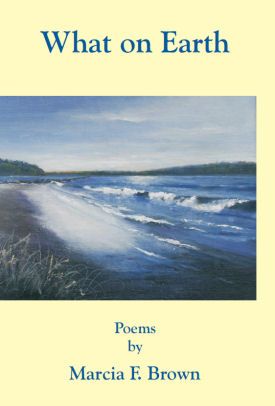 What on Earth
by Marcia F. Brown – copyright 2010
ISBN 978-1-4507-0737-4
$14
Read a sample
Reviews for What on Earth
by Nancy Henry
Marcia Brown's voice is deeply compassionate, wise, witty and real. Her work reveals a poet equally at home in the vibrant urban landscape of Manhattan and the austere, rocky forests of New England. Brown's elegant lines offer tenderness without sentimentality; her observations are profoundly humane but unblinkingly honest. This book is a fine companion.
by Laurie Meunier Graves
Marcia Brown is a sympathetic but shrewd writer. She sees human folly, but her poetry is warm and--dare I say?--wise. Then, there is her precision with language, which brings texture to her poems and makes them shine.
Sample from What on Earth
Piano Dreams
Sometimes I'm Bobby Short
at the Carlyle Hotel where fur-tipped
women trip in from the cold
on the thick padded arms of their men.
They sparkle with new snow
and old money. But it's me
they want to see. Leaning
into the keys, I play Autumn In New York,
Misty and I've Got You Under My Skin.
The golden women tilt their heads
with a faraway look in their eyes,
and run jeweled fingers tenderly
over crystal champagne rims.
I launch into You Do Something To Me
and they raise their glasses
and drink.

Sometimes I'm back
in that huge green ballroom
with the white doors
over the restaurant on High Street.
It's late spring--recital time--
and I'm supposed to practice my solo
here for 45 minutes. It's hot
so I'm thinking about the community pool. not
the Mazurka from Les Sylphides, and how
I'll ask my mother to drop me off there
after lunch. But then Stephanie Woodruff
from homeroom steps in the white door.
"Oh that's so pretty," she says, "don't stop playing."
And she executes a little faux mazurka step
around the room, laughing--
and I laugh too and play it faster
and better than I ever have.
And she keeps dancing and I keep playing
and this is how I learn
whatever it is I know about art
and everything I know
about imagination.