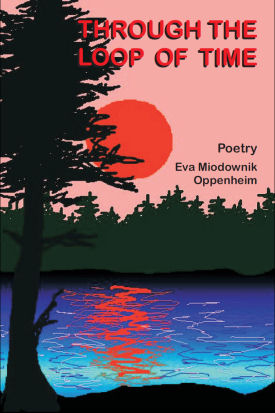 Through the Loop of Time
by Eva Miodownik Oppenheim – copyright 2010
ISBN 978-1-4507-0740-1
$14 including postage and handling
Read a sample
Reviews for Through the Loop of Time
by R.F. Motycka, Professor of English, SUNY Nassau
Oppenheim's latest collection demonstrates anew her perfect lyric pitch and the keen moment-to-moment imagistic acuity that has informed all her work to date. These are poems to be heard and overheard, time and again.
by Charlotte Mandel, poet, teacher
With authority in poetic line and finely-tuned ear, Eva Oppenheim's second collection opens vistas of cosmic motion experienced through true mindfulness of the moments in which we live. This is a poet of deepening accomplishment.
Sample from Through the Loop of Time
Summer Solstice
You could wrap this afternoon
and deliver it to memory intact,
its indigo shadows and irrepresible wind,

its waves of sea-green grass
where six teenagers leap at badminton
slamming shuttlecocks, shouting above the roar

in the tunnel of time that rushes
past their ears, past receding hills,
past the valley of limitation

into a wood of earth-colored
secrets, complacent pines,
almond-eyed deer, waiting,

or down to the wind-glazed lake,
its wide-angle screen
an inverted sky with no agenda.

The first day of summer, an amazement
of wings among leaves, sun-splattered
illusion of eternity

always in motion, pressing forward--benevolent
but relentless, like this fleeting, surprisingly sweet
breath of the air.