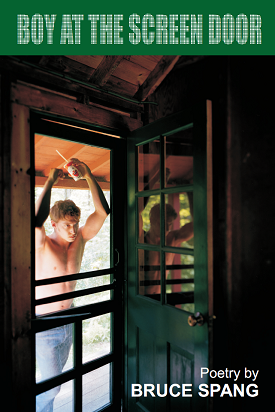 Boy at the Screen Door
by Bruce Spang – copyright 2014
ISBN 978-1-4675-7262-0
$17
Read a sample
Reviews for Boy at the Screen Door
by Betsy Sholl
Like one of the paintings he describes, Bruce Spang dares "to see as beautiful...a man looking at another man/with love," These poems say Yes to body, to soul, and to the world in all its triumphs and ills, its abundance and betrayals. In BOY AT THE SCREEN DOOR, Spang captures the ephemeral, "the might be of the moment", and just as impressively meditates on the issues of justice that engaged his youth--indeed, engaged an entire generation's. He celebrates with verve the way love reaches out through strangers and intimates alike, and he grieves with fine restraint the losses brought on by passing time. Speaking of desire, he says, "not me--but the sea, coming in, lifted..." as if we are always, even in our most private moments, part of something larger. That is the great gift of these poems.
by Baron Wormser
To read BOY AT THE SCREEN DOOR is, as Walt Whitman insisted, to touch a life and thus touch life itself in his poems. Bruce Spang is now bemused, now rueful, now affirmative, now wry, now saddened, now chastened, now desirous and many more deeply human states. One of the strengths of this marvelous book is that it resists summary in the way that life resists summary. I'm reminded of George Harrison's phrase "It's all too much." It is--and it isn't--and Bruce Spang gets that rich fault line exactly right. Again and again, in wonderfully wrought language, he testifies to the sheer unrepentant force of life and the memories, both broken and whole, that force leaves us with.
Sample from Boy at the Screen Door
love song without birds and flowers



you and who he was were lasting
in the whisper of the willing now,
turning of one body to another,
not asking if or why but touching—
Oh my and the kindred ecstasy
that rises only and needs no name;
it's fine because fire never asks who
it consumes: it takes absolutely you;
so don't ask if and can it be:
it does as it will do—
O body, let love be Yes—
it wants you to curl up
next to next as someone in no need
of metaphor because he is what is
and takes and gives what is given
and sleeps in the comfort of
Yes, it's so and let it go.