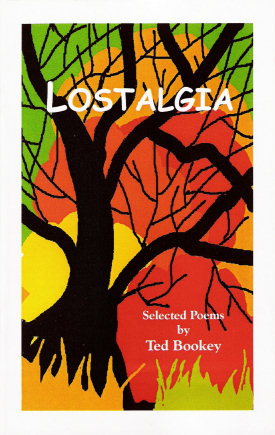 Lostalgia
by Ted Bookey – copyright 2007
ISBN 978-0-9796947-6-9
$10 including postage and handling
Read a sample
Reviews for Lostalgia
by Tony Hoagland
Enormously refreshing, it has a keen mind, gusto, full language, emotional responsiveness and appetite; it cherishes human experience, but insists on not fooling itself as it draws on different parts of the mind and psyche...There is linguistic energy, active meditative intelligence that recurs in their zany but controlled orbitings, they have a passionate seriousness about them, and the poems' rewards are their consistency of energy, surprise, and life-wisdom. "Our moods refuse to believe in each other," he says in "Handstands", but this poetry believes in them all.
Sample from Lostalgia
At the Window

She stood at the window glaring down
at the crowds and traffic, as if they
were responsible for all the troubles
between them, and the world.

The weather was cloudy, breakfast spoiled
argued through. She felt listless
gloomy--all the morning's dismal
radio wake-up news.

He sat on the bed in his underwear.
The wallpaper was floral.
Please come back to bed,
he said, it's cold.

I'm sorry, she said at length
I was wrong, we mustn't let
political feelings come
between us.

He went to the window where he kissed her.
Political feelings shouldn't come into it,
he said, holding his hands lightly on her
breasts. Yes, she said, yes, love is

love, running her hands gently round his backside.
Someone from the outside will see us, he said.
They waved at the traffic and the pedestrians.
Nobody waved back.