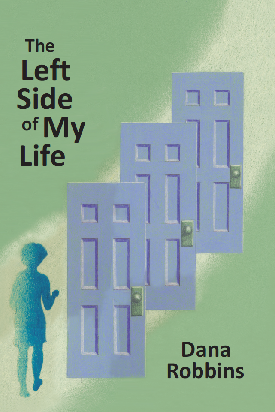 The Left Side of My Life
by Dana Robbins – copyright 2015
ISBN 978-0-9861524-4-3
50 pages
$12
Read a sample
Reviews for The Left Side of My Life
by Annie Deppe and Theodore Deppe
Out of the knowledge that "Our perfect bodies are only temporary," Dana Robbins has fashioned a compelling sequence of elegant memory narratives. Deeply personal, THE LEFT SIDE OF MY LIFE is also a generous look at the world. Here is a radiant portrait gallery that includes Russian grandparents, Italian neighbors in Brooklyn, and a "speckled dog with arthritic legs/and crocodile breath." This is a collection of marvels of the heart, rich with humor, lamentation and wonder.
by Dr. Tony Barnstone
...Her poems are relentlessly narrative, and they have important tales to tell about politics, family, heritage, disability, all working seamlessly on the surface but also on the dream level of symbolism where the poem's roots entangle in the semantic shadow.
Sample from The Left Side of My Life
The Door of the Past
She dreams she goes to her Brooklyn
apartment where other people live
now, as if her soul is trying

to get back to where she raised her children,
the sunny flat she bought with her own
money after the divorce,

on the brownstone street where even
the bricks were imbued with the scent
of garlic, coffee, amaretto,

though she does not forget the too high
mortgage, broken washing machine,
huge water bugs.

Here is where she listened with dog-acute
hearing for the sound of the key
in the lock,

where kids crowded around the table
for chili, spaghetti, pizza,
and chicken paprikash,

where, after school, her children
came up the steps with icy iridescent
cheeks and a scent of winter.

Night after night she knocks on the door
of the past as if it were possible
to return.