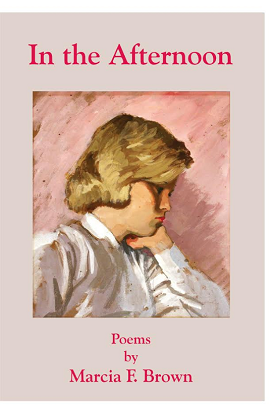 In the Afternoon
by Marcia F. Brown – copyright 2019
ISBN 978-1-7340020-0-3
$15.00
Read a sample
Reviews for In the Afternoon
by Gibson Fay-Leblanc, former Portland ME Poet Laureate 2015-2018
Marcia Brown's IN THE AFTERNOON mines memory and the present for music and images, yes, but also for understanding, and not the easy kind...These are poems full of musings and pleasures too, from Huck Finn's Jim asleep on a raft, to the color of spinnakers, to the "high marsh grass/nodding in the bright October wind."
by Linda Aldrich, Portland Poet Laureate
...all the people she writes about in this collection claim their spot in the light and are loved for the specific ways they are remembered, from the nun in the superb poem "Fleeting Passion," who teaches her young Catholic girls how to dance around the maypole, "her heavy shoes...kicked off/...her pale feet brushing the grass beneath the hem of her habit," to parents and lost family members...I could not have said it better: "dazzled and consoled" is exactly how it feels to read Marcia Brown's masterful poems.
Sample from In the Afternoon
The Day Beverly Randolph Sang in the Fifth Grade Talent Show



She might have been a gauzy ghost in an old daguerreotype,
drifting silently out of the wings, disk clutched to her chest, bending
to place it tenderly on the turntable, straightening to face

the entire school. You could almost see through Beverly Randolph,
the strange translucence of her skin, faded shirtwaist, shrug
of a sweater, and bare matchstick legs, though outside

the cafetorium -- a wholly uninspired space whose very coinage
stood testament to the penury of taxpayers -- the bruised
New England sky hung raw and heatless on the afternoon

before Thanksgiving break. For a second or two,
there was only the needle's harsh static, bouncing off clay-colored
lino, conjoined metal tables. Only the charged air and Beverly,

who lived at the dead-last stop of the bus route, who no one ever
seemed to see. Only now she was up there, and all of us waiting--
waiting it turned out, for Claude King, his enfolding guitar, warm

croon, and then too, Beverly's quavering voice: They say don't go
on Wolverton Mountain, if you're looking for a wife. Cause Clifton Clowers
has a pretty young daughter. He's mighty handy with a gun and a knife.

What Arkansas mountaintop called out to Beverly, I couldn't say.
But in that sea of cliquish duets and trios, giggling girlfriends
twirling batons or Mexican-hat-dancing, boys clowning

as Moe, Larry, and Curly, kids lip-synching Kennedy accents
to Vaughn Meader's First Family LP -- Beverly Randolph stood alone
in front of the mud-colored curtain, radiating some kind of soulful,

hillbilly heart-on-your-sleeve longing we had never felt. Her tender lips
are sweeter than haaaawney… she sang, gathering herself to the music
and swaying a little, and maybe we swayed, and maybe saw the bears

and the birds that made Beverly close her eyes in reverie. Who knows
what happens to those breakable angels from the old home room?
Can they survive? Or, what seems more likely, lead short lives

of infrequent joys--maybe just that 45 rpm, its vibrato filling her
hollow bones, our astonished applause washing over her in waves--
the day Beverly Randolph came down from the mountain
to sing her honeyed song.