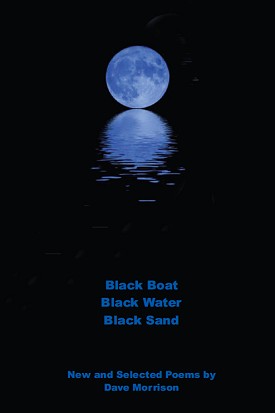 BLACK BOAT BLACK WATER BLACK SAND
by Dave Morrison – copyright 2009
ISBN 978-1-61539-452-4
$12
Read a sample
Reviews for BLACK BOAT BLACK WATER BLACK SAND
by Ted Bookey
Morrison crafts tall poetry with an XL talent, poems that show the assessing gaze of an expert looker, poems with an over texture, part chamois and part steelwool, with an eye for detail and the bottom line that takes language for a ride, doesn't keep it level and moving at one speed, guns it, putting it through loops and dives and steep climbs. He writes witty, often very funny poems full of simplexity -- kidding and not kidding at once -- as he strives to make sense of life, writing lines that free fall through history, clutching at twigs of the long gone and the passing by to render moments of deep resonance and beauty. Every line feels cared about, really meant, subjected to crash-testing, moments of heart pulling beauty.
by Matt DiGangi, editor, thieves jargon
Dave Morrison is the wisest penguin in the pit. a romantic carny who'll let you win the game if he thinks you'll give the prize to your favorite lady. From punk rock to the Maine coast, we should all age as well as he has.
Sample from BLACK BOAT BLACK WATER BLACK SAND
Ready
If a poem is a gift, then
I should not come to this day
empty-handed,

If a poem is a song I
will clear my throat,

If a poem is a painting I will try
to find a subject that
interests someone besides me,

If a poem is an inheritance then
I will sit in the lawyer's waiting room,

If a poem is a fossil, then
I will fire up my backhoe,

If a poem is lightning I
have climbed to the roof with
a length of pipe,

If a poem is a beautiful woman I
have combed my hair and
put on a tie,

If a poem is rain I
have put out buckets and dishpans,

If a poem is a beautiful bird I
have strung fine net between the
trees,

If a poem is fire I
have kicked some crates into
kindling,

If a poem is death I
have given everything
away.

I may not know what it is, but
I am trying to be
ready.