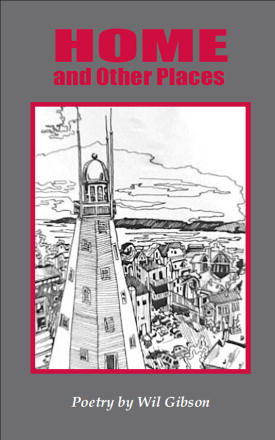 HOME and Other Places
by Wil Gibson – copyright 2012
ISBN 978-1-4675-3013-2
$12
Read a sample
Reviews for HOME and Other Places
by Reverend Tamara Torres
Poetry, at its best, provides us with a mirror through which to examine our own pain and transform it into something life-giving. And Wil is a true poet. With stories that threaten to break even the most hardened heart, Wil weaves shards of his past into the fabric of a future vision--one filled with hope, redemption and uncompromising beauty. In word and presence, he invites the listener to witness the raw intensity of the world, and then, against all odds, choose to respond with forgiveness and love. With a balance of fierce intensity and humble softness, Wil is a voice we need.
by Ryan McLellan
Wil Gibson's verse is so brutally honest, humbling, it grabs you by the collar and won't let you go until you get it. He is a brother, friend, and one helluva poet.
by Jay Davis
A Wil Gibson poem is a high energy pell-mell ride--lustful, acrobatic, earnest, and most of all, direct. Gibson hones his poems in front of an audience, where poetic tricks or mistakes that might obscure his message are easily exposed, and fall away just as easily. And his audiences love it! Expect to be engaged by a Wil Gibson poem. He's not merely telling us, he's bringing his experience right to us, so we learn from it the way he learned from it. In all the rhyme and rhythm and music, what is evoked is caring. Wil Gibson cares about his audience, and it comes through in his poetry. I'm eager to read his book. And catch his next performance. You will be, too.
Sample from HOME and Other Places
Sonata for Fireflies
Fireflies have more magic
than thunderstorms. One
small insect makes a flash
from nothing with no help
except evolution.

My hands have less fear
than your nightmares.
They can push away
anxious moments
like yours. Let them.

Be my evolutionary process,
and I will be your bright
bio-luminescence before the rain.

No child has ever tried to keep
thunder as a pet in a mason jar.
Until us.

We didn't fail.
We were told to stop trying.
That is was too dangerous.
Too bad. We almost
had hold of the lightning.