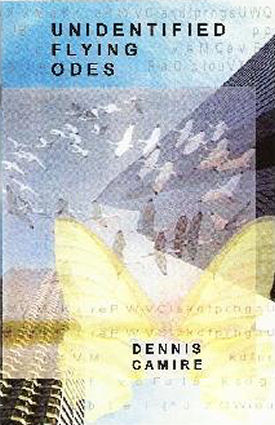 Unidentified Flying Odes
by Dennis Camire – copyright 2006
ISBN 0-9769929-3-0
$10 including postage and handling
Read a sample
Reviews for Unidentified Flying Odes
by Bruce Bond, editor, American Literary Review
In Dennis Camire's lavishly imagined book of odes, he has moved the genre with unexpected verbal invention deep into its true vocation, that of giving back delight to the world that delights us. In doing so, the joy we meet in these poems springs from an intelligence and play that refuse the easy irony of uncommitted fancy. Such is the ambition of these poems that wear that ambition lightly. That the wit here is so vibrant and memorable, so abundantly sustained, is rare enough. Rarer still, however, is the space his relish opens for the sometimes dark music of praise.
Sample from Unidentified Flying Odes
Ode to a Maine Moose

French kisser of bogs,
rainbow trout, and polliwogs--
brothel for black flies,
mosquitoes, and fleas--train derailer,
epicenter, and slow, soft gazer....
with a beard resembling that
of the turkey and the Yogi--
with the crown of a corrupt,
colonial king, the patience
of Job, the sadness
of a Modernist, the legs
of a llama, and the ears
of a deer--you are so strange
you could be
God.