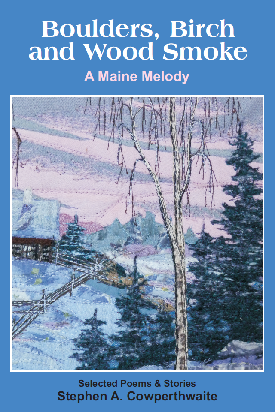 Read a sample
Reviews for Boulders, Birch and Wood Smoke: A Maine Melody
by Ted Bookey
One of the most accomplished books of poetry I've read in years, Boulders, Birch and
Wood Smoke starts with a supremely moving meditation on the birth of Maine -- BY THE BROOK -- carved out by the retreating glaciers that began in the PleistoceneEpoch, and ends in a comic musing -- APPROACHING THREE SCORE AND TEN -- on the poet's mortality. The voice throughout is pure Maine, as defining as the state's rocky coast, lobster, and the white pine. Steve Cowperthwaite's ear is exquisitely
tuned to a Mainespeak that's all but disappeared in the thirty years I've lived in the state; one rarely hears it any more. What a treat to know how lively and on the mark
it can still be and that it will now stand preserved in these poems as they its celebrate nature, chronicle its small town life and history, the current events and doings of the world beyond the state. His take on the 2008 presidential election remains as
hilarious and topical as when it was first written. It's no coincidence that Steve taught history professionally. If you love Maine, and who doesn't? you will love this
collection.

by Claire Hersom
Steve Cowperthwaite takes his blue-eyed, dry wit and snaps it across the word "Yankee" like he owns it...the reader is invited in - into the woods, on the lakes, to sit by the fire in log cabins. With his prosy sashay in and out of the realm of a grand storyteller coupled with his authentic voice, this book becomes more than a wonderful collection of poetry; it's a love story.
Sample from Boulders, Birch and Wood Smoke: A Maine Melody
Ephemera


In April, if the world is still
with only breeze enough
to barely stir the opening lake,
dying ice performs its own requiem,
joyous song of release and renewal.

In the night, gentle west wind nudged
the last great raft of lake-ice into the cove.
Soft, porous, crumbling,
morning sun and frigid water reduced
all but a fraction to glassy slivers and shards,
vanishing, but some of natureís loveliest crystal,
a million tiny chimes to strike together
rocking almost imperceptibly on the slight swell.

The music is some of the rarest,
performances, spontaneous and unannounced.
Iíve never read a criticís revue or a poetís rapture.
Listen!

Thatís not the west wind whispering
or the rattling of the brook.
The orchestra is tuning.
Our timing is perfect.
The concert has begun.