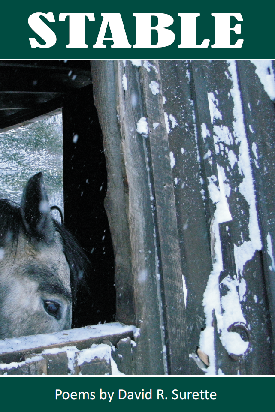 Stable
by David R. Surette – copyright 2015
ISBN 978-0-9861524-2-9
Winner of an Honors Book award in the Massachusetts Book Awards 2016
$12
Read a sample
Reviews for Stable
by John-Michael Albert, former Portsmouth, NH Poet Laureate
By focusing on his memories of horses, sheep, goats and alpacas, of goldfish, turtles, cats and dogs, and of mice, deer, a loon and a fox, he gives us a peripheral, loving portrait of the people who crowd his family and his community. Unlike the first horse stall he built, every one of the poems in STABLE is level and plumb.
by Kerrin McCadden, author of LANDSCAPE WITH PLYWOOD SILHOUETTES
Though rooted in the grit of a life among domestic and wild animals, these poems in David Surette's STABLE are charged with imagination and heart..Poem by poem, we are reminded as we walk among animals and each other that "the open hand is as strong as the fist."
Sample from Stable
Stable


Very little is right about the first stall.
I built it with raw pine from the sawmill,
real 2x4ís, 2x6ís, Ĺ inch panels.
Ben drew up the plans in a dusty spiral notebook.
I built it alone, and itís neither square nor plumb.

I added two more stalls,
each one carrying the posture of
the carpenter as I grew surer
with the level, the saw, the drill, hammer and nail.
The last stall is nothing to be ashamed of.

A winter night, Stanley,
the Percheron/quarter
horse rolled in pain,
knocking down the walls of the first stall,
but it didnít fall on him and kill him, but he died
the next day anyway.
I tacked up a picture of our remaining horse
at the feed store,
hoping for a fair price.

Then the girls bought two foals.
I rebuilt that damaged stall from the studs up.
IĎll have to tear the stable down
if I want to be equine free.
A stable stall is a heart to be filled.