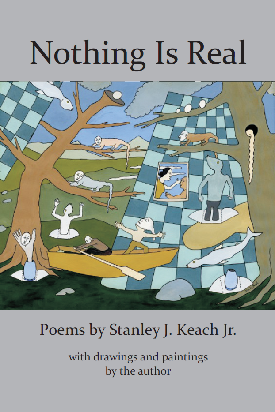 Read a sample
Reviews for Nothing Is Real
by Ken Rosen
Keach's poems' [show a] mind-boggling range of utterance and..reckless delight in life's mystery, misery, folly, dread and gnomic intractability...along with...freedom and uncanny skill.
by George VanDeventer
Keach sings the language of Albert Camus: "every blasphemy is, ultimately, a participation in holiness." The sanctity of Keach's NOTHING IS REAL resonates in the giddy image of "Mother Will Ride On A Hog", the book's illustrated last poem.
Sample from Nothing Is Real
I Died For Ugliness
I died for ugliness; no sooner was
I tossed into the hole, one dead for lies
Was dumped in one nearby. I crawled across
Through sand and clay to hear her alibis

And yammerings. She asked what did me in.
"Was ugliness," I said. "What about you?"
She talked about the cult that she had been
Involved with (or was it a church?); and so

Our sad petite affair continued thus.
We had not much in common in the end,
Though, for that matter, truth and beauty just
Don't match up any better, do they, friend?

I have been more contented, though alone,
Just decomposing, into hair and bone.