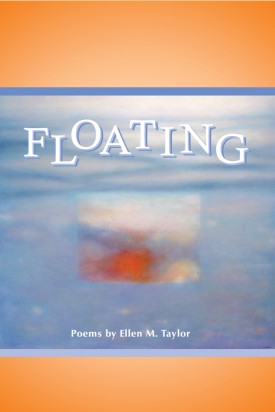 Read a sample
Reviews for Floating
by Baron Wormser, former Maine Poet Laureate
From the "hieroglyphics" of woodsmoke in rural Maine to the "sultry clouds" of Nicaragua is a very long way
but Ellen Taylor spans the distance in her probing and compassionate poems. Her words reach into the realms of caterpillars and rocking chairs, the Disappeared and the patients in a radiation waiting room. She quotes Einstein -- "Imagination is more important than knowledge" -- and she lives those words in these far-ranging yet always close-to-the-heart poems.
by Kate Barnes, first Poet Laureate of Maine
FLOATING is a book of poems which floats between the joys and griefs of individual life and those of the greater life of the world. Ellen Taylor's enjoyable poetry is fresh, honest and brave. It never turns its back on sorrow, and yet it is deeply celebratory.

Whether she is telling of her days on a Maine hillside or in the barrios of Argentina and Uruguay, Ms. Taylor's work always makes us remember that "...poetry is our shared language, our address, our starlight, our space."
Sample from Floating
Neurology
In the Neurology Waiting Room
one is reminded of the impermanence
of life, the fragility of it all. A senior
in plaid golf cap pushes his wheeled walker;
a boy with pink cheeks, flanneled and wheelchaired, sleeps.
Lilacs on the May cover of Family Circle,
with a heading Defy Middle Age.

What is middle age ?

"Middle age ends
and old age begins
the day your descendants
outnumber your friends,"
my father is fond of saying
on the occasion of a birthday.

For better or for worse,
in sickness and in health,
are vows I understand now,
on the pages of middle age
as my own neurological fatigue
has made me a compulsive list
maker, a necessary planner.
We never planned for this,
few do, I do,
again and again.