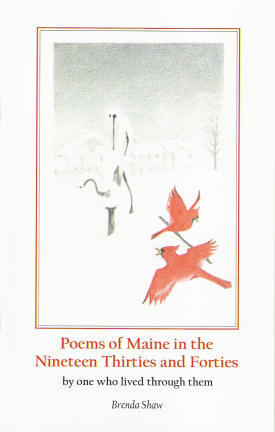 Poems of Maine in the Nineteen Thirties and Forties
by Brenda Shaw – copyright 2006
$10
Read a sample
Reviews for Poems of Maine in the Nineteen Thirties and Forties
by Lee Kirk
Brenda Shaw's poetry is always accessible. It throws up a canvas on which the poet paints her image -- of a time, a place, a person, an even, in bright, evocative colors. The reader does not have to struggle to find the "meaning" in the poem. Instead, one finds oneself leaping from one poem to the next, one image to the next, following a thread of narrative that lends excitement and anticipation.
by Quinton Hallett
Truth is Shaw's muse. I admire these frank and uncluttered poems which honor and circle continuously back to her elders while they bring the Maine years out of darkness and "into the blazing light."
Sample from Poems of Maine in the Nineteen Thirties and Forties
Guardians

Two women guard my bed and share my genes.
On one side is Bess, my mother, who gave me
music, writing, love and the brain to become
a scientist, before she died young.
On the other side is Aunt Alta
who gave me art and anger.

Each morning when I wake they are there
because I made their images with love and care.

Two other guardians should join them:
an old one, grey with years but with amazing strength:
Mentora, grandmother, you made me strong so I could fight you.
Shirley, my father, you had nothing to give but love--
and the truth when I asked for it.

Mentora and Shirley: I'll paint you both before I join you.