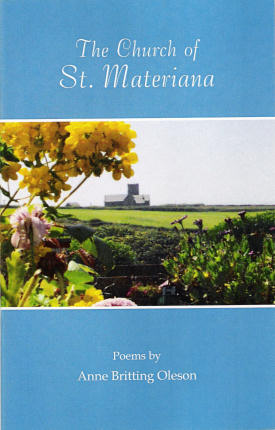 Read a sample
Reviews for The Church of St. Materiana
by Ted Deppe
I'm moved by the deep humanity of these poems. With passion and painstaking craft, they inquire into the ways we relate to one another. Somehow, Anne Britting Olesen seems to know just how far to push as she explores the difficult and tender landscape of family life. The poems that seek to understand the relationships of mothers and daughters are particularly rich. Honest, compassionate, and luminously detailed, The Church of St. Materiana marks the debut of an admirable poet.
by Laure-Anne Bosselaar
Unswerving, edgy and seamless, this collection is marked by an astonishingly powerful yet tenderly human voice. Anne Britting Olesen faces the world around her with such intelligence and emotional courage that the personal experience is instantly transformed into a universal one; and we too feel 'awash with nostalgia for a moment not yet gone,' and grateful for these lucid, wide-ranging, musical poems.
Sample from The Church of St. Materiana
Catherine Blake, Alone
"I have very little of Mr. Blake's company. He is always in Paradise."



I could say I never minded the laundry,
the lye-heavy soap and the washboard
rubbing the skin from my knuckles until I
wear my own homemade stigmata;

and as the years move on, it becomes less
a sign and more a blessing that there are no
children to be banished from the mystical
garden, where they might disturb
the angels who converse with their father
from the boughs above, our little ones fed
Bible verses morning, noon and night in place
of milk we often times cannot afford.

I could say I do not mind
the tradesmen at the door with their dingy
cuffs and rough manners, men not
fobbed off with a watercolor or psalm,
wishing to speak to the master if he's not
too busy having visions. I could say I
never minded any of this,
the shopkeepers' sneers,
the pity of neighbors, acid
burns on my clothes and hands
from his attempts to teach me
the engraver's art, if only, just once,
I too could look to the window to see
the luminous face of God gazing back at me.