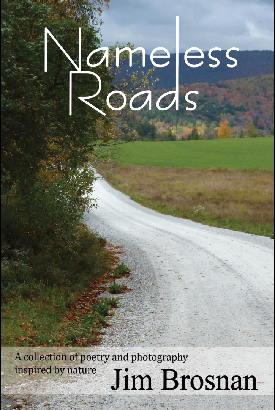 Nameless Roads
by Jim Brosnan – copyright 2019
ISBN 978-1-7323624-8-2
$21.00
Read a sample
Reviews for Nameless Roads
by Gibson Fay-Leblanc, Portland ME Poet Laureate 2015-2018
The poems in Jim Brosnan's NAMELESS ROADS are in love with the natural world, with memory, and with their beloved. They are our tour guides across the continent and, like any excellent tour guides, imagine us, the readers, as one with them on the journey: "Maybe you are listening to this song/in this landscape of sound/..a place where we can't return."
by Betsy Sholl, Maine state poet laureate 2006-2011
...There's a generosity in these poems, as if to say experience is not fulfilled until it is shared with another, and the role of poetry is to reach out, soul to soul. The figure of a woman presides over these poems, a soul companion, sometimes walking beside him, sometimes longed for. These poems speak to our deep need for beauty, solitude and for love.

Sample from Nameless Roads
Early Sunday Morning

On my drive into town
past fields of prairie grass
and a meandering creek
tracing winding asphalt,
I count the telephone poles
leaning against an August sky
of churning cumulus,
and wonder if the Murphys
have moved away yet.
I park the Buick a block away
from Rexall Drug,
stroll past the whitewashed
façade of Bartley's Bookstore,
its contents emptied last month,
its soul now only revealing a few
of Kirk's acrylic paintings,
reproductions of old motorcycles,
in the front bay window
while the clock retrieved
from the one-room schoolhouse
mounted above this art display
reveals the exact hour in Madrid.