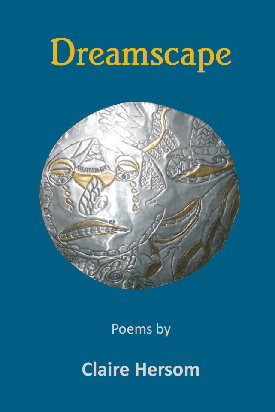 Dreamscape
by Claire Hersom – copyright 2017
ISBN 978-0-9981922-4-6
$14
Read a sample
Reviews for Dreamscape
by Dennis Camire
Whether meditating on the natural world or on memories of friends, lovers and family, in DREAMSCAPE the speaker often finds that the beautiful and solace-laden world she seeks is already manifest--or there to be transformed into her reality--if she just looks closely at the world and the scars they have suffered....These wonderfully wise poems, in short, are both rewarding for the serious reader of poetry and for the solemn seeker.
by Jeri Theriault
These are poems of community and faith, the universal "we" often used to emphasize the connections the poet feels. We are all in this together, says Hersom, and there is transcendent beauty in our togetherness. ...This book celebrates the bonds of nature and family, the ties to earth and season, and the 'streams of simple remembering.'
Sample from Dreamscape
For Beauty's Sake

ďWe must see all scars as beauty.... a scar does not form on the dying. ď
- Chris Cleave


Bring the Band-Aids and gauze
the Vaseline and iodine
letís see this open wound,
this gap between
one side and another
how we can stitch it up
smooth the edges, once again
make sure there are no tears that show
discoloration or indentations
bring the adhesive tape
and soapy water and letís wash it clean
bring the tweezers and magnifying glass
letís see what we can do to
make it look like nothing ever touched
this elbow or shin or eyelid skin
give me the Neosporin, let's rub it in
disinfect the nasty scrapes and bruises,
pretend nothing ever bent us to our knees,
turned our stomachs inside out
and our souls didn't flee
even for that small second
from something it could not comprehend;
and for that one doubting moment, we
didn't once think of ourselves as deserving
of a scar-maker we sometimes loved
sometimes didn't know
sometimes we had control
and sometimes, no control
when their own despicable scar
could find no peace
and transferred itself to us instead
like a gift.