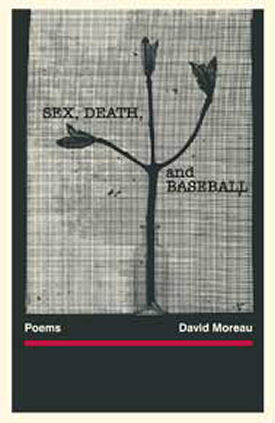 Sex, Death, and Baseball
by David Moreau – copyright 2004
ISBN 0-9765166-9-1
$10 including postage and handling
Read a sample
Reviews for Sex, Death, and Baseball
by Baron Wormser, former Poet Laureate of Maine
David Moreau manages the considerable feat of being utterly real and good-natured at the same time. He evinces great heart and great honesty and his poems show us that fearless poetry doesn't have to pose, to be fully human is more than enough.
Sample from Sex, Death, and Baseball
Borrowed Time

I will not die tonight.
I will lie in bed with
my wife beside me,
curled on the right
like an animal burrowing.
I will fit myself against her
and we will keep each other warm.

I will not die tonight.
My son who is seven
will not slide beneath the ice
like the boy on the news.
The divers will not have to look
for him in the cold water.
He will call, "Daddy, can I get up now?"
in the morning.

I will not die tonight.
I will balance the checkbook,
wash up the dishes
and sit in front of the TV
drinking one beer.

For the moment I hold a winning ticket.
It's my turn to buy cold cuts
at the grocery store.
I fill my basket carefully.

For like the rain that comes now
to the roof and slides down the gutter
I am headed to the earth.
And like the others, all the lost
and all the lovers, I will follow
an old path not marked on any map.