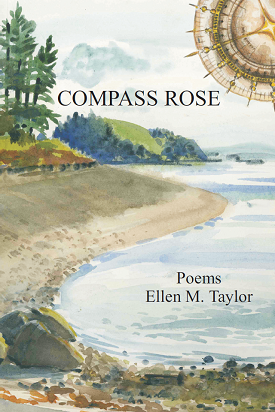 Read a sample
Reviews for Compass Rose
by Dawn Potter
Ellen Taylor's poems travel the world and time, yet despite their variety they remain true to what I see as the central premise of this collection: the power and elasticity of language...Her poems remind us to wait, to listen, to feel--even as we discover that among "so many words/for love, and life, but none/of them alone are quite right."
by John Perrault
Not one to shy away from danger, Taylor takes risks here. ..A voice at times urgent, at times relaxed, but always sensitive to the music her wide experience has taught her.
by Martin Steingesser
Ellen Taylor is an astute observer in a compassionate dance with life. Reading her poems becomes a lovely walk: from New York into the Maine countryside, snowfall covering windowsills, blueberry barrens, skinny dipping and splitting wood for the stove, we taste the salt of lonely nights, the gold of kerosene lanterns, goat bells...
Sample from Compass Rose
Teaching "Sonny
I think of them, their predictable walk
from cell to breakfast -- maybe they count
the steps from cell door to hall's end, count
the seconds it takes for the locks to release, count
the paces to the chain-link fence, count the guards
at each checkpoint. So much counting:
waiting for meals, mail, visitors, waiting
for lights out, waiting for light.
I think of them, some in coveted solitary cells,
sitting on thin mattresses, regulation blue shirts
with designated numbers, regulation socks
and sneakers on the floor. Reading.
I see the thick green paperback of short stories
with the girl on the cover, a girl in an orange
dress, lying on sun-splotched grass. Reading.
She is from a time when girls wore petticoats,
laced shoes, and waited for men to come courting.
I think of them, sinking into "Sonny's Blues,"
under fluorescent light, on a wool blanket,
dingy sheets, breathing stale plexiglassed air,
the pulse of eighty men per floor.
"And he'd always been a good boy, he hadn't ever
turned hard or evil or disrespectful," our narrator
tells us about his brother. I think of them, backs
against the wall, turning the pages, forgetting for a moment
where they are in their sentences, present only
on the timeless page where Baldwin writes,
"There isn't any other tale to tell,
it's the only light we've got
in all this darkness."