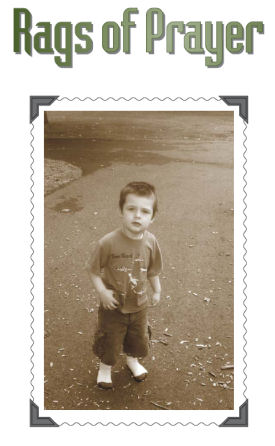 Read a sample
Reviews for Rags of Prayer
by Ted Bookey
The poems in Rags of Prayer have impact--not only of the new, always luminously palpable found in "real" poetry -- but the bang of the newly recognized. Poems recalling old loves, first loves, the poet's parochial school days, a torturous first marriage, encounter with a dying family member, and loved animals, memories on their way to sliding in and out of range, all recalled and nailed to the page with a kind of heightened exactitude that transports the reader to the comic vistas of Sweeney¹s risible universe.

Those familiar with his poems know that Sweeney is one of the funniest men writing in Maine today. Anyone who has enjoyed hearing him at his hilarious readings or discovered his marvelously funny and wise poems in the pages of the poetry journals will welcome Rags of Prayer as the book they've been waiting for. His warm, life-embracing - often sexy, often philosophical, always playful - clarifications of the inherent opacity of our human situation are masterfully embodied in his wise and vastly likable and beautifully crafted poems that tickle the mind and soothe the heart. I want to say, too, that he is a kind poet, too, kind without ever stooping to the sentimental and its cornball pieties. Sweeney¹s poetry aspires to seeing the world as it is. Which it does amply, and more so.

"Things are rare as they are good," said Spinoza. The existence of anything good fills me with astonishment. And since the poems in Rags of Prayer are very good indeed, I find everything about them amazing.
Sample from Rags of Prayer
After Attending the First 60th Birthday Party of A Contemporary
My father, his heart dead
would say he was only waiting
for it to get late enough to go
to bed alone. At one I'd take
the paperback from his hand
and kill the light. By four
he'd be up before the world
that interested him less.
On February week nights
I go to bed early, relieved
of Maine's dark cold, shut off
my wife's radio, take up a book.
He liked novels & history,
his son novels & philosophy,
understanding at last why
the old tire of the dark, would
rather sleep than stay in it
knowing how much awaits; it's
better to wake hungry for dawn
but Saturday night I give the dogs
a late run on the beach, mix
SNL with Austin City Limits,
read a magazine story of a young
girl studying dance in New York.
The cats all home, my son at college,
I stay up this one night to drink
green tea, knowing sometimes
it's important to fight sleep like
dying, to look at circles of light
in the living room and kitchen,
knowing it's almost over,
that it's all, it's enough
for now.