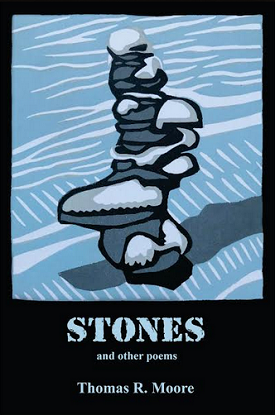 Read a sample
Reviews for Stones
by Annaliese Jakimides, editor and poet
...There's an organic heft to these poems, thick with truth and the language to both bare and bear it. An explorer with an eye that looks both inward and outward, it is clear that Moore has not only asked the questions but also listened to the answers--both in the place he calls home and in the other distant places that have been home to him.
by Judy Kaber, Belfast, ME poet laureate 2021, 2022
...His ear for language and ability to weave sounds into a fine tapestry of meaning is always evident, from the earthy brilliance of "Digging" to the rollicking sounds of "One Poem." This collection continues Moore's lifelong celebration of the mesmerizing beauty of our workaday world.
Sample from Stones
Fame
[writing] is mostly a career pf rejection
and lost illusions.
-- Evan S. Connell


Bemoaning my obscurity, I ride local
roads to find someone more invisible than I.

Here are the single-wides with insulation
drooling from a side, the aroma of chops

frying for dinner before an ice cream pie.
An ATV upended on the lobsterman's

drive. A dozen traps cock-eyed. Two doorless
Chevy pickups in the goldenrod. But fame!

Undeniable fame! A night in the Belfast jail
according to The Free Press, for DUI or

speeding or other piddling crimes. Name
in the paper more often than I for my poems

or obeying downtown parking signs. But
of course I'm old, restrained, shy. Unknown.

Getting ready to die. So here's my notoriety
poem, frank and open-eyed. Still whirring

forward with words and possibilities, but no chops
for dinner and no poem like that ice cream pie.