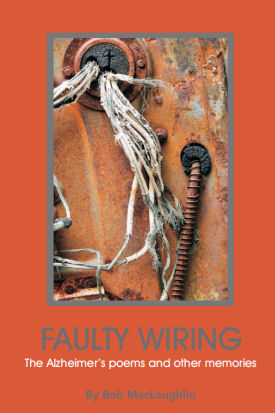 Faulty Wiring
by Bob MacLaughlin – copyright 2011
ISBN 978-1-4507-0735-0
$12
Read a sample
Reviews for Faulty Wiring
by H.R. Coursen
Bob MacLaughlin's poems are warm, engaging, compassionate, often funny, and carry an edge that lesser poets smother in sentimentality. Nothing sentimental here. Bob's is a world of energetic encounters that sometimes knock him off his feet but never find him at a loss for the right word or the precise insight that captures the meaning of the moment his poetry brings alive.
by Ted Bookey
Bob MacLaughlin has an assessing gaze. He's an expert looker, an adept and affecting story teller who crafts beautiful narrative windows. Even in those poems memorializing his father's descent into the slow, horrific indignities of Alzheimer's, he is able to conjure a rich humor and lovingness, a vision of LIFE clapping its hands. I returned time and again to reread whole poems in the way one might press a finger to the crumbs littering an otherwise cleaned plate out of a desire to savor every morsel.
by Elizabeth Potter
Bob MacLaughlin reveals the beauty and yes, even the humor in subject matter we often try to hide from or place in a box of acceptable responses. He finds the soft spot and the smiles in our real life struggles and suffering by wielding the whole truth of his experience, even when some might call him irreverent. I would counter that this is poetry at its best, standing in the trenches with the poet experiencing the entire moment--tenderness and foolishness, bitterness and forgiveness, the ridiculous on sacred ground.
Sample from Faulty Wiring
FAULTY WIRING
Their smiles shatter
and they utter that pitying "ohhh..."
when I tell them

Pop has Alzheimer's
as if he's afflicted with tragedy
not just faulty wiring

as if there's no way he and I
could have laughed our guts out
the other day when we heard

that giant clunking noise
and he jammed the brakes on,
bellowing,

"What the hell was that?!"
and I got out to look up and down
the street but found nothing

until I caught his cane in the act
of running away again, it having slid
down from the moon roof

and hooked itself around the ham radio
antenna on the trunk, wagging
like the tail of a mischievous dog.